5 Of The Best Sulfate-Free Shampoo Bars for Natural Hair!
Shampoo bars can be an all-over replacement from commercially available and harsh shampoos which strip the hair from its natural oils. We're in love with shampoo bars and couldn't resist in compiling a list of the best of the best shampoo bars currently on the natural hair care scene today. Not only do these selections cleanse the hair, they nourish, moisturize and are free from bad chemicals. Check them out below! By the way, these are all Sista-Owned Brands! 😉 Gotta love it!
CLAIMS: This rich moisturizing shampoo will leave your hair soft, conditioned, and hydrated.  Shea butter deeply moisturizes and repairs damage to hair and scalp, while coconut oil protects hair from heat and chemical damage.
INGREDIENTS: Saponified Oils of Coconut, Palm, Castor bean, Safflower; Shea Butter, Vegetable Glycerin, Purified Water, Rosemary Essential Oil, Sorbitol, Soybean protein, Sorbitan Oleate, Fragrance.
CUSTOMER RAVES:
"

A great shampoo bar that not only leaves your scalp feeling clean but also leaves your hair strands 

moisturized

….I will never use liquid shampoo again after this!!"
CLAIMS: Bobeam's specialty is shampoo bars made with all natural ingredients and they can be used on all hair types, including locs. The shampoo bars contain no SLS or SLES, detergents, surfactants, or sulfates. They are all-natural, 100% vegetable soap, non-comedogenic, hypo-allergenic and biodegradable.
INGREDIENTS: Saponified Vegetable oils mainly Coconut Oil, Glycerine (kosher, of vegetable origin), Purified Water, Sorbitol (berries, moisturizer) ,Sorbitan oleate (emulsifier), Soybean protein (conditioner) Titanium Dioxide (a mineral whitener used in opaque soaps).
CUSTOMER RAVES: "LOVE IT! Here's why:- has slip. have you ever heard of a shampoo with LATHER having slip???? Unlike most liquid shampoos that matte up my hair, I've found that natural shampoo bars actually LOOSEN up my curls and I can literally finger detangle with LATHER in my hair. My mind is blown."
Karen's Body Beautiful Beauty Bars– $12
CLAIMS: Nourishes and hydrates extra dry or curly hair that craves moisture.  Perfect for coily, curly or kinky textures.
INGREDIENTS: Purified Water, Saponified Olive, Coconut and Safflower Oils, Jojoba Oil, Shikaki & Amla Herbs, Apple Cider Vinegar & Panthenol
CUSTOMER RAVES: "The juicy bar for me has been awesome. Its a white bar and it doesn't really have a smell to me. As soon as it hits my hair it feels wonderful and I can detangle with it its that moisturizing for me. Keeps me clean. without the squeaks."
Bee Mine Nourishing Shampoo Bars– $8
CLAIMS: Looking for a rich, thick, lather? Our clarifying shampoo bars will cleanse deeply without stripping your hair of vital nutrients and vitamins.
INGREDIENTS: Coconut Oil, Palm Oil, Safflower Seed Oil, Glycerin (kosher of vegetable origin), Shea Butter, Purified Water, Sodium Hydroxide (saponifying agent), Sorbitol (moisturizer), dl-Panthenol (Pro-Vitamin B), Hydrolyzed Silk, Organic Raw Honey, Amla, Brahmi, Neem, Sorbitan oleate (emulsifier), Soy bean protein (conditioner), Lavender Essential Oil, Fragrance.
CUSTOMER RAVES:  I have tried the other Bee Mine shampoo bar and I love it as well. This product is awesome. I am not a fan of traditional shampoo for it tends to be very drying to my hair. I haven't used the Ayurvedic herbs before because I was afraid of mixing them incorrectly and they take more time than I have to devote to treating my hair. This bar is a great way for me to get the benefits without the hassle.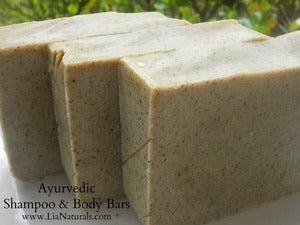 Lia Naturals Ayurvedic Shampoo Bar– $6.95
CLAIMS: Our Ayurvedic shampoo and body bars are great for those into Ayurvedic hair care. We use Ayurvedic oils and herbs that are said to naturally help promote overall hair health.
INGREDIENTS: Purified Water, Sodium Hydroxide, Soybean Oil, Avocado Oil, Palm Oil, Olive Oil, Coconut Oil, Wheat Germ Oil, Shea Butter, Castor Oil, Amla, Neem, & Fenugreek Powder
CUSTOMER RAVES: "The bars lather up very easy and make it simple to cleanse the length of the hair. I was very pleased with this shampoo bar from Lia Naturals and I would most definitely purchase again."
Have you tried shampoo bars before? What brand would you add to this list?